Product Description 

DataTale PAIR 2.5-inch 2-Bay RAID unit provides triple interface options to meet all possible configurations between different workstations, and protects digital assets wherever you go.
It is rare to come across 2-Bay enclosures for 2.5-inch hard drives in today's market, plus one with RAID management. The DataTale PAIR 2-Bay RAID System is customized with an intelligible GUI (RAID MASTER) for personalized RAID settings, a colorful LED for immediate system status, and triple interfaces for instant connection. The DataTale PAIR 2-Bay RAID System is light for travel, and perfect for mobile users looking for heavy RAID supervision.

With the user-friendly RAID MASTER application, anyone can arrange permitted RAID tasks or be alerted of potential system problems. In addition, DataTale PAIR 2-Bay RAID System allows straightforward RAID mode-setting including: JBOD (Non RAID), RAID 0 (Striping), RAID 1 (Mirroring), and Span (Large).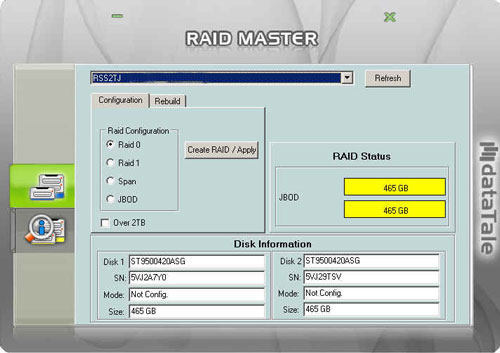 Based on preference, any two 2.5-inch 9.5mm or 12.5 mm SATA hard disks can be combined as a single drive enclosure using SPAN, Mirror or Stripping mode, or remain separated as a 2-Bay RAID System using JBOD mode to perform the RAID Storage desired. This way, storage capacities won't be wasted just because the HDDs are separated; the data can be backed up even outside the home or office. Furthermore, since the DataTale PAIR can support over 2TB* of drive capacity without any trouble under RAID 0 or SPAN. 
*This only applies if the host supports more than 2TB.

The DataTale PAIR 2-Bay System facilitates a 2-Bay storage device ready for usage anywhere via FireWire bus power. With the FireWire 800 connection, the hard drives can be powered, and DataTale PAIR 2-Bay will not need an A/C adapter anymore, lightening the load even more.

Its slim, sturdy housing can safely seal away any two 2.5-inch hard drives, sheltering them from random accidents. Add the bundled black "Slip Bag", slide the PAIR in and be on your way.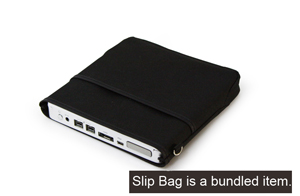 Besides being a desktop-capable RAID System, the thin and light DataTale PAIR 2-Bay System is perfect for any travel-like carry-on bags. Its small book-like body along with RAID MASTER gives users the flexibility to operate RAID applications on the go.

Features:

- Supports current 2.5-inch SATA compliant hard drives or SSD
- Shelters any two disks from random accidents with a slim and sturdy housing
- Bundles with a black Slip Bag, easy to carry with protection
- Facilitates drives usage via FireWire 800 host-provided bus power, lightening the load without an A/C adapter
- Monitors system status via RAID MASTER and/or colorful LEDs
- Permit RAID tasks and set alerts using RAID MASTER (GUI)
- Allows straightforward RAID mode-setting with JBOD (Non RAID), RAID 0 (Striping), RAID 1 (Mirroring), and Span (Large) modes
- Extends connection flexibility to host with plug-n-play via High-Speed USB 2.0, eSATA, and 1394b ports


---
Specifications:


 

Interface/Connector
eSATA x 1, USB 2.0 x 1, 1394b x 2
HDD Support
2.5" SATA HDD for both 9.5 mm and 12.5 mm thickness or
SSD
Note: Due to restrictions of each individual SSD's controller and user's host system, not all the SSDs are compatible when utilized with the DataTale PAIR
Data Transfer Speed
eSATA: up to 3Gbit/sec
USB 2.0: up to 480Mbit/sec
1394b: up to 800Mbit/sec

RAID Level
JBOD (Non RAID), RAID 0 (Striping), RAID 1 (Mirroring), Span
LED Indicator
Power / Connection / Health / Access / Rebuild
System Material
Aluminum case with plastic parts
Power Supply
FireWire 800 bus power, or AC Adapter 
(Input: AC 100~240V; Output: DC +5V/2A
Dimension
155 (L) x 155 (W) x 22.5 (H) mm
Weight (w/o HDD)
260 g
Read/Write Speed (eSATA)
192/173 Mbit/sec*
*Seagate 500GB/7200rpm HDDs; OS Windows 7; RAID 0 with HighPoint RocketRAID 622A SATA2 Card